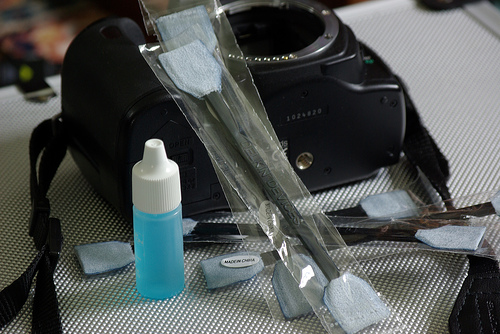 First things first, taking care of your gear is one of the most important things you can do, and this doesn't just apply to professionals. Take it from someone who has seen a thousand camera repair issues that range in just about every "shape and size" possible.  When I am getting ready for either a paid shoot, or just to take a few snapshots of my kids, the way I maintain my gear is key to an enjoyable experience. Keeping my camera, flashes, and lenses in a proper storage bag keeps them free from dust and moisture. Before I shoot I look over my camera and check the functions. I make sure my battery has been charged and my memory cards have been formatted and are ready for more memories to be made.
Once finished, I wipe my gear down to rid it of dust and even grease from my hands and face. I remove batteries from any flashes I might have used, and put my battery on the charger. This is done to ensure I am ready for my next photographic excursion at a moment's notice.
While I am shooting, I take great care to make sure I utilize the neck or hand strap which will minimize accidental damage. And if anyone is as excited as I am about editing and/or posting pictures to the web, before I do this I make sure all of my gear is put away. I have read all too many times where the customer has said that their camera fell off of their desk. Even a hanging neck strap can be an extreme danger if you have pets or little ones running about.
Even though I feel I maintain my equipment to a pretty high standard, I still bring it in every so often to have it looked over by one of our repair technicians. A firmware update and cleaning the sensor of my camera every so often keeps me shooting without unforeseen issues.
As someone who diagnoses camera defects and determines the cost for repair for a living, I have a firsthand look into some crucial mistakes people make when out taking pictures. In fact, not only mistakes, but lack of care for their equipment. Chances are that if your photographic gear is on my desk or that of any other camera repair facility for an estimate for camera repair, you will be following these tips more closely!